Staff
The over 2000 families who have been served by the Gary L. Rollins Funeral Home would agree that "we're an extended family when you need us most!" Our family consists of the following key personnel:
Gary L. Rollins Funeral Home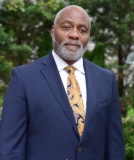 Gary L. Rollins
Founder, Owner, CEO, Licensed Funeral Director, & Mortician
Born and raised in Frederick, MD, Gary received an Associate of Arts degree in Mortuary Science from Catonsville Community College in 1981. He subsequently took and passed the exams administered by the National Board of Funeral Service and Examining Boards. In 1983, he passed the Funeral Directors and Embalmers test given by the Maryland State Funeral Directors and was awarded his license to practice as a mortician. At the conclusion of his studies, Gary served as an apprentice at the Herbert E. Nutter Funeral Home in Baltimore, MD. It was here that Gary gained the skills and experience required to practice in Maryland. While employed at Nutters, Mr. Rollins began to develop his own unique style of handling funeral services. Gary worked his way up to Head Embalmer and gained a reputation of quality service in the Baltimore community. He also served as a trade embalmer for other funeral homes in Baltimore. Gary then decided to open his own funeral home in his hometown.

For 17 years, Gary taught embalming at Catonsville Community College (now CCBC at Catonsville), helping to instill in the students a love and appreciation of mortuary science. Gary also served as the President of the Funeral Directors and Morticians Association of Maryland for two years. He is also active in the Frederick community, sponsoring numerous events for children and others. The Gary L. Rollins Funeral Home has received awards for Best Business and Best Businessman from BlackFrederick.com in 2008, 2009, & 2012.

Today Gary, joined by his wife Dr. Denise Rollins, is taking his outstanding business to the next level by offering new products, introducing an extensive grief care program, renovating his facility, and continuing to provide the unique approach in easing the burden and worry of clients and patrons who are dealing with the death of a loved one. This includes being respectful, confidential, and professional in dealing with their needs.